COURSE
COACHING LEADERSHIP
DOING LESS, ACHIEVING MORE 
 3 MONTHS
€ 2,995
MAX. 10 PARTICIPANTS

Want to learn how to do less and achieve more as a manager?
Want to give your employees more responsibility?
Want to learn how to help your employees change and develop?
If so, this Coaching leadership is just what you need!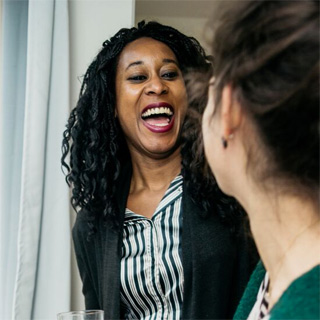 What is coaching leadership?
The Coaching Leadership program is a short practice-based training that helps you become a more effective and conscious manager. In five training days spread over a two-month period, you will grow your coaching leadership knowledge and skills and learn how to use a coaching mindset to make the most of your employees' potential. Giving responsibility when you can, taking responsibility when you have to. Who is it for? This training is intended for leaders, team coaches, and (project) managers. If you want to learn how to get others to take ownership, this training is just the thing for you. This training is also ideal for HR officers who want to provide the best possible support to leaders and managers in their coaching leadership practices.

The NONONS approach
During our Coaching Leadership training, you will learn a great deal, especially by doing. The NONONS training method is practice-based and translates to real life, always on a sound theoretical basis. Relevant theories and models are covered in a playful and instantly applicable way. The idea is basically to foster 'learning by trying'. Throughout the program, you will get lots of personal feedback, both from your trainer and from your fellow students. You will also get to practice coaching sessions. And on the final day, we will bring in an actor with whom you can practice dealing with particularly difficult situations.
What do you learn?
You will become aware of the different roles you fulfill (leader, manager, and coach) and how to use each role effectively
You will gain insight into your intervention reflexes standing in the way of effective leadership
You will fully grasp the different leadership styles and become able to effectively switch between them
You will learn how to use the coaching mindset to inspire your employees to take ownership of their tasks, happiness, and growth
You will learn how to handle 'walk-ins' and other ad hoc needs
You will learn to use coaching skills in your one-on-ones with employees to maximize their potential
You will learn to create a climate where your employees are given confidence and able to pursue learning (you identify patterns, give feedback, encourage, invite, and question
The program
With hundreds of managers and coaches having taken the training, we know exactly what works and what doesn't work. Based on our experience, we can put together a tailored program for each client. Needless to say, we can focus more intensively on certain subjects and less so on others, entirely as per a client's needs. Most of our clients go for a five-day program spread out over three months. Such a program could be as follows:
Day 1 Leader On the first day, the focus is on the basis of coaching leadership. What roles do you fulfill and which pitfalls are you aware of? This will help you identify your strengths and weaknesses as a leader and find out when to use the different leadership styles. We will also go into how you, when things do not go as you intended, can take ownership and make choices.
Day 2 Manager On day 2, we will go into skills and useful conversation techniques for managers. This day is about how to confront respectfully, how to get good at delivering bad news, and how to be effective in dealing with difficult behavior or responses.
Day 3 Coach This day is all about coaching sessions, about how to help your employees change. This includes addressing the question of how to activate employees who are unaware that they need to change. We will present several practical coaching techniques, which you will use to practice coaching sessions aimed at getting your employees to acquire new insights and find solutions on their own.
 Day 4 Practice day The fourth day is a practice day. On this day, we will work on your coaching skills. You will be practicing what you have learned so far in a small group. You will get lots of feedback on your style and how you handle one-on-ones.
Day 5 Final day On the final training day, we will look back on the progress you have made throughout the program and go into difficult situations and complex cases you have encountered. Working in small groups, we will get down to identifying your personal barriers and exploring what you can do to stay effective. In the afternoon session, we will practice particularly difficult talks with an actor. At the end of the day, you will be presented with your certificate.
Fees and venues
Fees As of 1 January 2021, the fee for our Coaching Leadership training is €2,995, plus 21% VAT. This fee includes the training venue, coffee, tea, lunch, and all training material. The fee for this training is tax deductible, both for businesses and private individuals.
Venue In Amsterdam, our Coaching Leadership training is held at NONONS' offices at Linnaeushof 6-1. The Rotterdam venue for our Coaching Leadership training is at Blooming Stories at Nieuwe Binnenweg 75C. All training days run from 9.30am to 5pm.
We begin the day at 9.30 a.m. and end at 4.30 p.m.
86%*
would recommend this course to others.
*based on evaluations by participants.